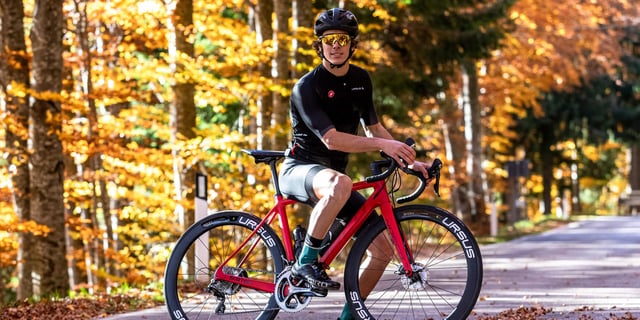 Al lavoro in bici? L'ambiente ringrazia, ma anche le tue tasche. Senza dimenticare la salute.
SAFETY AND PERFORMANCE: ALBERTO MAFFEI'S CHOICE
A champion such as Alberto thrives on adrenalin, but is also aware of the risks linked to the constant attempt at overcoming the performance limit. This is why, as a professional athlete, Maffei believes carefully choosing his equipment to be of vital importance.
Just as his snowboard, his bicycle must allow him to improve, with the utmost safety. The new Ursus ambassador has therefore decided to fit only high-end components. Meaning a Miura TS47 wheelset for disc brake, made of carbon monocoque. Light weight, stability and unrivalled smoothness come together in this product offering reliable braking at the hub. A veritable revolution on wet road surfaces.
For a Professional Freestyle Snowboarder, control is also a priority. A steering system which will accommodate well-trained reflexes one hundred percent is required. A rigid and concurrently sleek cockpit. Magnus H.01 is the ideal solution for our #Gladiator.