TRIATHLON BIKE WHEELS AND HANDLEBARS: PUSH YOUR PERFORMANCE BEYOND YOUR LIMITS.
To win a triathlon race, you have to take care of both your physical and mental preparation in great detail. But you simply can't do without equipment that gives the maximum boost to your performance. Ursus triathlon wheels, handlebars and accessories are designed to push you beyond your limits.
ON THIS PAGE, YOU WILL FIND:
TRIATHLON: WHAT IT IS, WHEN IT CAME INTO BEING, AND ITS HISTORY
Are you entering the world of triathlons and want to know more? On this page, you will find all the information you are looking for. Let's start with the definition and history of the "hardest sport in the world".
The triathlon is an individual sport (or, in some competitions, a relay) that combines:
The three disciplines are practised by the same athlete consecutively during the same race. Each of the three parts of the race is called a "leg". Between one leg and the next are "transitions", during which the athletes change the equipment they need to face the next leg.
Today, the triathlon is an Olympic sport recognized by the International Olympic Committee (IOC) and various national and international federations, but its history is quite recent.
BRIEF HISTORY OF THE TRIATHLON
The event was born in 1977, on a US military base in Honolulu (Hawaii), as a bet among fellow soldiers to decide which was the toughest endurance race. According to the soldiers involved, the winning contender was a combined swimming, cycling and running race.
Thus, a competition was organized that brought together the three disciplines, as different legs of one race. This was the very first triathlon competition in history.
The sport then evolved quite rapidly. After the first few amateur competitions, the number of participants and enthusiasts steadily grew.
Already in 1989, just 12 years after its conception, the first Triathlon World Championship was held in Avignon, France, organized by the newly formed International Triathlon Union (ITU). In the same year, the first European Triathlon took place in Cascais, Portugal, under the auspices of theEuropean Triathlon Union.
However, it was necessary to wait until 2000 for the triathlon to finally become an Olympic discipline, at the 28th games in Sydney, Australia.
Today, at the Olympic Games, the triathlon has a men's individual competition, women's individual competition, and a mixed team triathlon. The nation that has brought home the largest medal collection since 2000 is Great Britain, followed by Switzerland and Australia.
In Italy, the triathlon is overseen at a federal level by the Italian Triathlon Federation (FITRI) and by the Italian National Olympic Committee (CONI).
HOW MANY TYPES OF TRIATHLON EXIST
Triathlon competitions can be varied. The specific distances and regulations depend on the type of race and the age of the participants. Often a competition can have its own specific regulations, for example, due to particular climate conditions, such as swimming in very cold water.
The most well-known types of triathlon are:
The Olympic Triathlon

The Sprint Triathlon

The Ironman
How do they differ?
In the case of the

Olympic Triathlon,

the event consists in 1.5 km of swimming, 40 km of cycling, and 10 km of running.

The Sprint Triathlon

, on the other hand, consists of 750 m of swimming, 20 km of cycling, and 5 km of running.

Lastly, the Ironman is an especially long triathlon and real endurance challenge, involving 3.86 km of swimming, 180.260 km of cycling, and 42.195 km of running, the latter being the same mileage as a marathon.
However, there are other triathlons that are variations on these three types of event. For example, there are "long", "mountain bike sprint" and "super sprint" triathlons, and competitions for the under categories, such as the duathlon, etc. Each of these competitions has different rules, and often different mileages for each of the three legs.
If you are thinking about starting your adventure as a triathlete, you should know that you may be more suited to an endurance race over a sprint race, or vice versa.
But certainly you will find out by throwing yourself into a bit of training.
Learn more about the differences between the Olympic Triathlon and the Ironman.
THE MOST IMPORTANT COMPETITIONS
The most important international competitions are without a doubt the Olympics and the World Championships, organized by World Triathlon (the successor to the ITU, and recognized by the IOC).
Then there are the continental competitions, such as the Europeans or the Pan-American or Oceania games. The international Ironman competitions are instead managed and organized by the World Triathlon Corporation.
STEFANIA AGUZZI: THE TRIATHLETE WHO LIVES NEXT DOOR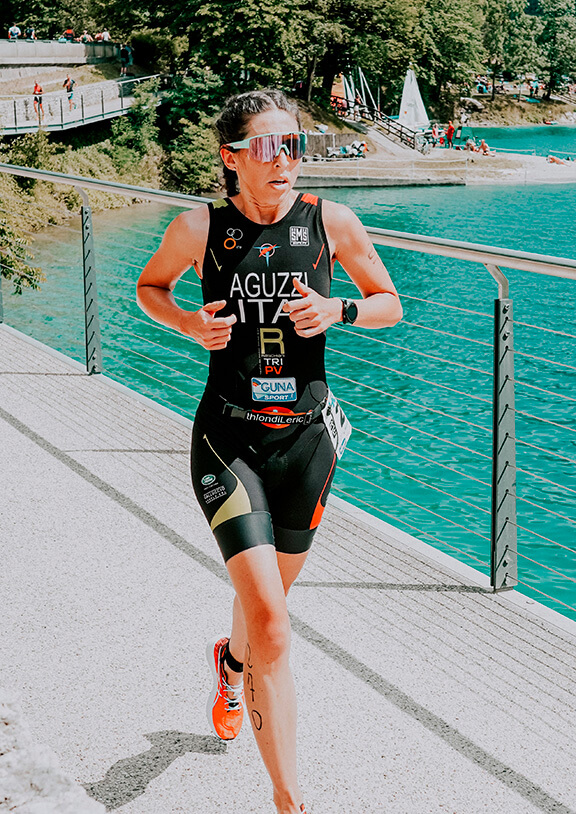 HOW TO START AND HOW TO PREPARE FOR A TRIATHLON
Such a tough sport as triathlon demands a lot of training. Still want to become a triathlete, and challenge yourself and others in a real triathlon race? Well, first of all, you need to meet the following criteria:
Know your limits

Be

hungry

to overcome them
The important thing is to start off gradually. You are never too young or too old to start bringing out the best of you.
The Italian Triathlon Federation (FITRI), for example, recognizes various age categories, ranging from "Puppies" to "Seniors" and "Masters", further subdivided into different levels.
But if you have decided to dedicate yourself to triathlon, know that the first person you will need to come up against is yourself. You will need a very strict physical and mental preparation. Your routine will be made up of athletic, technical, tactical and mental training, as well as careful nutrition.
As the Olympic triathlete Davide Uccellari explained in an article on the Ursus blog, the ideal is to train every single day, alternating intensive and less intensive training in the gym, swimming pool or sea, and regularly going for a long run or cycle.
In terms of nutrition, the triathlete's diet also has to be quite strict. You will need to add mid-morning and mid-afternoon snacks, in addition to the main meals of the day. Your goal should be to always have enough energy available to best face the race, without weighing yourself down.
How much does triathlon cost? Unfortunately, it is not a sport that you can practice at no cost at all. You will have to buy special equipment, especially for the cycling part.
Though, even the swimming and running legs require specialist equipment.
The stand-out item is the "tri-suit" or "triathlon suit", which can be used for swimming, as a swimsuit, as much as for running and cycling. In some cases, particularly for competitions in cold water, use of wetsuit may be permitted. Checking out all the rules of each race is crucial for triathletes. Always take your time to analyse them in detail.
Then, you will need a swimming cap, goggles, and running and cycling shoes. Triathlon footwear should facilitate the transitions from one leg to the next. A quick transition benefits the athlete, while a slow transition will separate the athlete from the rest of the group, constituting a setback that is hard to recover from.
You will find that the cycling part is the most expensive, since you will need a particular bike. You also need to pay particular attention to the choice of wheels, handlebars and other accessories, which we will talk about later on.
Is all this expense necessary? Yes: using a high-performance bike and accessories really makes a difference in terms of the comfort, safety and performance of a triathlete during the race.
To get started and cut costs, you can adapt a racing bike with some handlebars suitable for the Olympic Triathlon. These will make sure the triathlete has the correct, most efficient, and less taxing posture.
As you level up, however, you will want to get just the right triathlon gear, which will gradually become indispensable.
Similarly, it will become increasingly important to take care of every detail of your preparation for competitions. Every fibre of your body and mind will be put to the test. And beating your own records will be a satisfaction you cannot even imagine.
WHAT YOU NEED TO KNOW ABOUT TRIATHLON CYCLING
The cycling leg of a triathlon has its own special rules. These apply both along the course and in the transition areas.
The route generally winds along paved roads, with well-signposted changes of direction. However, there are also triathlon events competed on mountain bikes, on more rugged routes.
The course is accessed through a transition area, where equipment and clothing changes take place between the various legs.
Cycling is undoubtedly the most tactical part of triathlon competitions, and, above all, the Olympic Triathlon. Before a race, therefore, you will have to prepare yourself from both an athletic and a tactical point of view.
For a few years now, athletes have been given the opportunity to strategically exploit break and slipstreaming. In other words, just as in road cycle races, today, in the Olympic Triathlon, you can follow in the wake of another athlete in the lead pack, and take advantage of their aerodynamic work.
Following in a slipstream, however, has its own difficulties, especially regarding road holding. Your tactical approach therefore needs to go hand in hand with your technical and endurance training.
To start the cycling leg in the best possible way, you have to learn to quickly identify your station in the transition area. You will then have to change extremely quickly to stay in the leading pack, and not lose ground.
For the entire duration of the race, in all three legs that make up the triathlon, you will have to know how to manage your efforts and energy. Remember that you will have to keep on pushing, but without excessive energy expenditure. If you want to win, you have to go all the way.
Also, when choosing your cycling equipment for the triathlon, you have to make sure you comply with the rules . There is a specific regulation, for example, regarding handlebars. Aerodynamic bullhorn handlebars are generally forbidden, and it is mandatory that appendices are closed at the front, with an extension of less than 18 cm.
However, given the many differences between competitions, remember to carefully read the rules of each one you enter, as they can change considerably.
The last thing you need to know about cycling in a triathlon is that it is a very demanding stage. Going from the water directly to the road, your muscles will already be aching from swimming. But you will also need to conserve your strength for the running leg. In the middle of the race, therefore, it's all in your legs.
THE CORRECT POSTURE OF THE TRIATHLETE IN THE SADDLE
How do you face such a critical leg of the triathlon? How important is it to have the right posture on your triathlon bike? Well, let us just say that it is decisive.
Indeed, maintaining a good posture will help you in many ways. Above all:
In terms of

performance

, since it gives you just the right aerodynamics

In terms of

physiology

, since it allows you to avoid injury and reduce effort

In terms of

comfort

, since it reduces the risk of chafing and rashes in the perineal area.
The correct posture to adopt in the saddle is with your wrists placed on the handlebar grips in an advanced position. Your legs must take on the right physiological angle to make the most of their entire pedalling range.
To do this, you must first calculate the right saddle height and distance from the handlebar, based on your physical measurements (height, length of limbs, etc.).
Amateur athletes make these calculations in a more "rudimentary" way, while specialist triathlon centres use very technologically advanced methods and machines.
On the other hand, a time-trial bike, or triathlon bike with handlebar extensions, is more aerodynamic. You will be leaning far forwards, with your weight unbalanced on the front of the saddle. Therefore, it is important to distribute your weight laterally on the left and right as evenly and symmetrically as possible.
This position has huge advantages in terms of aerodynamics and speed, but you have to consider the impact on your back and legs. You will feel that during the race all your muscle groups will be subjected to more effort and tension.
Will you accept some advice if you are a beginner? Even when a time-trial bike is allowed, carefully consider whether you should actually use one or not. In some cases, for example, you could opt for a standard triathlon bike adapted with ad hoc time-trial type handlebars.
In your assessment, also consider the impact of the aerodynamic posture on your physique and muscles, especially if you are not a professional athlete.
Triathlon races are run on special bikes. Often these are time-trial bikes, which are designed to offer the maximum in terms of aerodynamics and speed.
As we have already mentioned, however, on very long routes it is often better to choose a standard adapted racing bike or a standard triathlon bike.
Novice triathletes sometimes re-adapt road bikes and MTBs for triathlon racing using handlebar extenders. These accessories are used to give the triathlete a more functional and aerodynamic posture. They also protect the back from micro-injuries, as far as possible.
Triathlon bikes usually have handlebars with extenders. They also have particularly comfortable saddles, and pedals with a quick attach and release system. This facilitates the transition from swimming to cycling, and from cycling to running.
Lastly, a must is the most suitable wheels for the race. Generally speaking, the choice ranges from high-profile wheels, used on very fast routes, to medium-profile wheels, which are a good compromise between speed and stability. Low-profile wheels are much more stable but not very dynamic, which is why they are rarely used in competitions.
A brief aside: also pay attention to the choice of either tubeless or clincher tires. The first has unbeatable rolling performance, while the second offers greater stability, particularly in windy conditions.
As you can see, triathlon also takes a lot of mental effort, already from a strategic point of view. You really cannot leave any detail to chance if you want to challenge yourself in the most exhausting sport in the world.
TRIATHLON BIKE MAINTENANCE AND CLEANING
An important aspect we would like to remind you of is that of periodically cleaning your triathlon bike and all its accessories. Your bike and its mechanical parts should be kept clean, functional and lubricated.
Why? Because these are delicate parts. Rust, dust and dirt can easily ruin them, or make your pedalling far less fluid.
Imagine if, after so much training and so much effort, your pedalling is slowed down by a little dust or too much dirt!
Here are the steps to keep your triathlon bike clean:
Prewash

Degreasing

Chain cleaning

Rinse

Drying

Lubrication
We also recommend that you take the bike to an expert mechanic on a regular basis, for a check up on the mechanical components.
We have already talked about how to keep your triathlon bike clean and high-performing in one of our previous articles: how to clean your triathlon bike.
THE BEAUTY ROUTINE FOR WHEELS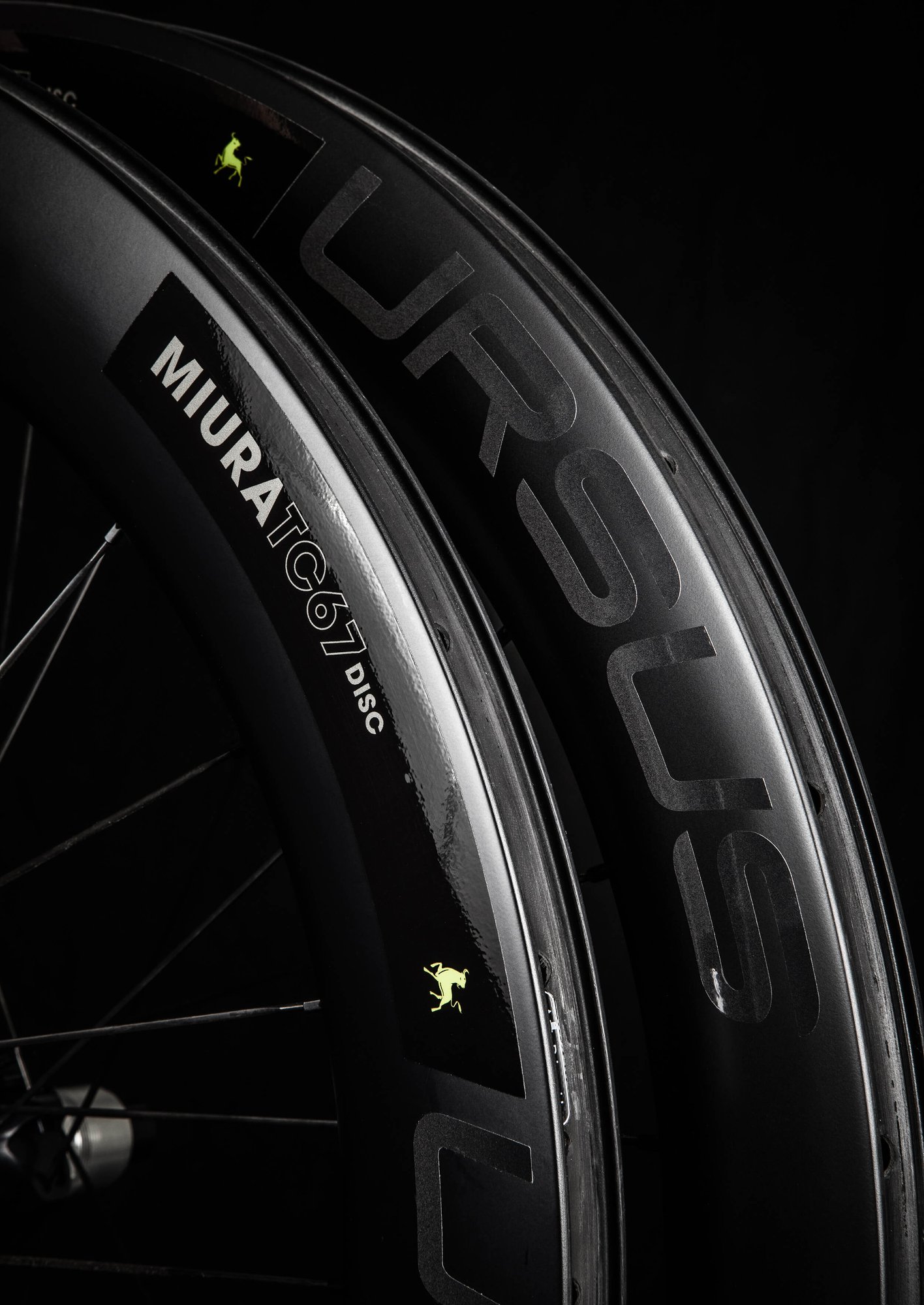 HOW TO CHOOSE THE RIGHT WHEELS FOR YOUR TRIATHLON BIKE
Many triathletes opt for lightweight high-profile carbon-fibre wheels, because they are the best in terms of speed and aerodynamics.
These wheels perform very well on long and fast races, such as the Ironman, and also Olympic Triathlon.
They allow you to maintain a good speed when both slipstreaming or sprinting to get to the front of the pack.
However, not all races are run on well-paved roads. If you find yourself racing on bumpy or steep roads, controlling the bike can be difficult, and high-profile wheels are therefore not the best choice. The wind can be a factor too, undermining the stability of the bike while racing, especially when there are side gusts.
In such cases, it is generally better to use medium-profile wheels.
Once you have identified the type of wheel that is right for you, you have to consider an avoidable truth: a more technological and higher quality wheel makes all the difference in the race.
For this reason, the ideal is to always use high-end, functional and light-weight wheels.
At Ursus , for example, we make use of an in-house design and development department that works with professional teams and triathlon champions to create the very best high-performance wheels.
HOW IMPORTANT IS THE CHOICE OF HANDLEBARS
As we have already said it: triathlon is undoubtedly the toughest sport in the world, and you simply cannot leave anything to chance.
Even your handlebars are components you will have to choose with great care, in order to optimize your triathlon performance.
Ursus designs, develops and manufactures handlebars suitable for Olympic Triathlon, Sprint and Ironman bikes. Indeed, these racing handlebars can all mount extenders.
Ursus' design effort is particularly dedicated to personalization, that is, creating models that perfectly adapt to the exact physical measurements of athletes. Since it is true that the more a handlebar adapts to an athlete's physiology, the better the athlete's race performance will be.
For example, among Ursus' patents is AlphaSolution, which is designed to guarantee you an aerodynamic position, whatever the size of the handlebar you have chosen.
Ursus handlebars are also designed for the very highest quality gear shifting equipment, such as Shimano and EPS Campagnolo. They allow the passage of cables internally, and are made from super light and super resistant materials such as carbon fibre.
OTHER TRIATHLON CYCLING ACCESSORIES: HUBS, SEATPOSTS, ETC.
Physical, tactical, technical and mental training are daily bread for triathletes. But, to push harder, you need the accompaniments. And, for triathlon, they are bikes and accessories that count.
A well-equipped triathlon bike will not replace your hard work, but it will make the most of every effort you have made to train right up to the time of the race. It will accompany your muscles throughout the event, and enhance their explosiveness and raw power.
Today, bikes are an extremely high-tech means of transportation. Therefore, especially when it comes to such a complex and tough sport as triathlon, technological innovations can radically change the outcome of the race. Not only that, they can also protect your legs and back from trauma and injuries.
For this reason, in addition to wheels and handlebars, you should also pay close attention to the smallest components, including hubs, seatposts, handlebar stems, and other cycling accessories.
HUBS: THE COMPONENT THAT ALLOWS WHEELS TO ROLL
Hubs are the mechanical parts that allow wheels to turn, where the spokes are attached. In a nutshell, these parts allow the bike to actually move.
Therefore, it is clear that if a hub is specially designed and built to guarantee stability and performance during the race, the bike will go faster.
Ursus Hubs are made with extremely precise machining, using numerical control equipment, to reduce tolerances down to the micron. They are extremely smooth, and are designed to leverage all the strength of your muscles while pedalling in the race.
SEATPOSTS GIVE YOU COMFORT AND STABILITY THROUGHOUT THE RACE
Seatposts, on the other hand, have the function of joining the saddle to the bike, and giving you maximum stability and comfort during the race. They also favour the cushioning of blows throughout the course.
Ursus has developed two special seatpost models, MAGNUS SP700 and MAGNUS SP300. Both are perfect if you are looking for an excellent balance between race performance and comfort.
HANDLEBAR STEMS FOR THE PERFECT POSTURE
The handlebar stem is a key component in maintaining the right balance when you are in the saddle. Indeed, for greater aerodynamic efficiency, some athletes prefer smaller bikes than the size recommended by their physical proportions.
In such cases, the handlebar stem partially makes up for the difference in height, allowing the athlete to maintain an extremely aerodynamic, oblique posture, without assuming a stretched position that could be harmful for muscles.
The range of Ursus Stems for racing bikes includes two types:
Magnus S700

, in carbon fibre, which gives the triathlete a tailored experience on the bike, thanks to its adjustable alpha angle

Magnus S300, in aluminium, that comes in 4 sizes from S to XL.
OTHER TRIATHLON BIKE ACCESSORIES YOU CANNOT DO WITHOUT
What other accessories should never be missing from the perfect triathlete's transition backpack? Without a doubt, you will have to remember to pack spare valve and repair kits for tyres.
Outside of the race, it is always good to have spare spokes, valves, extenders, brake pads and beatings at home, to replace any that wear out as you compete in races.
Ursus has thought of this by developing a complete range of accessories for racing bikes and those who practise triathlon.