WATCHWORDS FOR THE CORRECT BIKE? RIGIDITY, FLUIDITY AND LIGHTNESS.
Cyclocross riders face mud, long bumpy stretches and steep inclines. Two things are essential: resistance and adaptability.
Maximising cardiovascular capacity and training the muscles is not enough: to improve your race performance you also have to choose the right components and accessories for your cyclocross bike.
WHAT WILL YOU FIND IN THIS PAGE?
WHAT CYCLOCROSS IS AND HOW TO DO IT
Cyclocross is a cycling discipline typically practised in autumn and winter, during pauses between road cycling events. Routes are short, a mix of tarmac and off-road, usually between 2 and 5 km long. Races consist of several laps of the course.
The length of each race is set by the judges on the basis of the time taken to complete the first two laps; this is generally around an hour.
Cyclocross tracks are characterised by earth, mud, ups and downs and short paved sections. They are often in woodland or meadows, where artificial obstacles are erected. For this reason, one of the main features of cyclocross is that the riders run, carrying their bikes, for some sections of the course.
Want to become a good cyclocrosser? Remember that the winners are those who best adapt to sudden changes in terrain, but physical strength and resistance are also essential for this sport, which demands persistence, stamina and leg strength.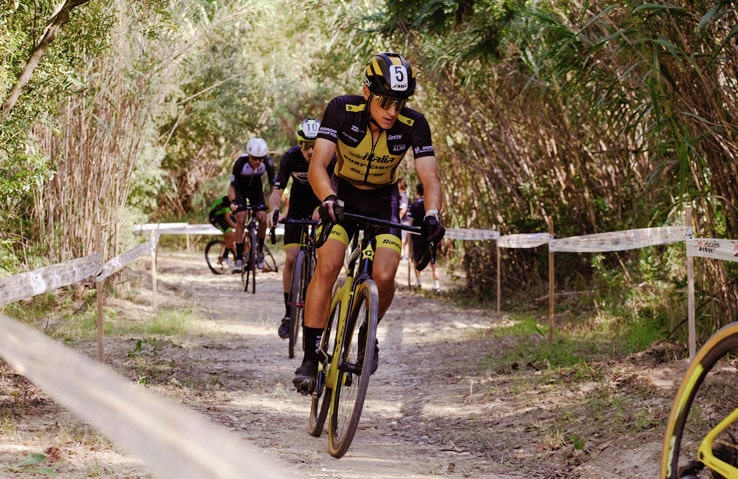 Cyclocross began in the early 20th century as a training method for road cyclists during the winter season, when there were no competitions. Cycling and running on muddy and uneven terrain improved the athletes' cardiovascular condition and muscular strength. Some road cyclists still practise cyclocross to keep fit during the off-season.
Over time, cyclocross became a discipline in itself, practised by professional athletes who are exclusively occupied with the sport.
France is considered the birthplace of cyclocross, because it is here that the first official competitions were held in 1902. The sport rapidly found success in Europe, especially Benelux and Switzerland. Italy and Spain also now have an established tradition of cyclocross.
However, to be considered a full-blown international sport, cyclocross had to wait until the mid 1920s, when the first race with international athletes took place in Paris.
In the 40s a shared set of international cyclocross rules was established, and in 1950 the first World Cup was held. Today international competitions are run under the auspices of the Union Cycliste Internationale (UCI).
Since the 70s, cyclocross has also become popular in the USA, although it remains more deeply rooted in France, Belgium and Luxembourg than anywhere else.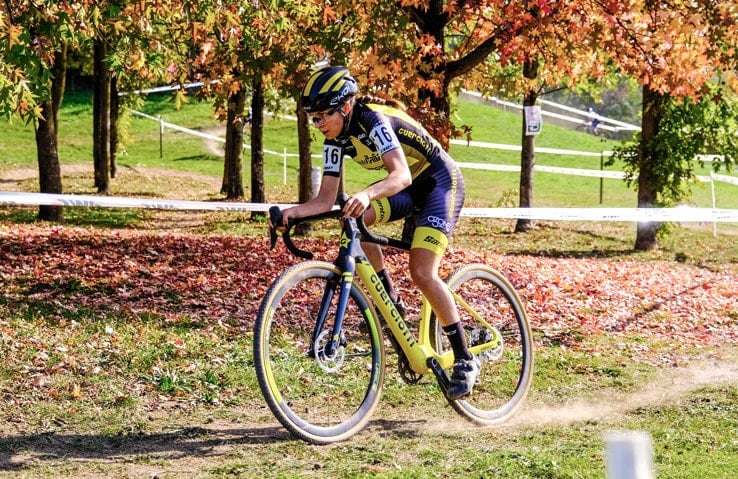 Some competitions are veritable cyclocross milestones. Below we'll give you some brief information about the main international events.
The Cyclocross World Championship
The Cyclocross World Championship has been happening since 1950. The first edition - only open to men - was won by Jean Robic. Each athlete represented his own country. The World Cup is a single one-day race, and the winner becomes World Champion.
Categories are as follows:
Elite male and female

Under 23 male and female

Junior male and female

Mixed relay
Reigning champions from the 2021-22 edition:
Elite male: Thomas Pidcock, UK

Under 23 male: Joran Wyseure, Belgium

Junior male: Jan Christen, Switzerland

Elite female: Marianne Vos, Netherlands

Under 23 female: Puck Pieterse, Netherlands

Junior female: Zoe Backstedt, UK
Cyclocross World Cup
The Cyclocross World Cup is a team event which takes place over a number of stages in several countries throughout the autumn and winter, usually from October to January. The current 2022-23 competition has 14 stages in the United States and Europe.
In recent years, Italian stages have been held in Val di Sole, in the stunning winter scenery of the Alps.


Superprestige
The Superprestige is another multi-date competition held in Belgium and the Netherlands, with male and female Open and Junior races.
The first Superprestige races took place in 1982, and since then the event has happened every year. There are 8 stages, and athletes are awarded a score for each one, which counts towards the final classification.
Like the World Championship, the Superprestige is organised by the UCI.


X2O Badkamers Trofee
Another important event in the cyclocross calendar is the X20 Badkamers Trofee, also disputed in Belgium between October and February.
The racing has 4 categories:
Elite men;

Under 23 men:

Elite women:

Junior women:
This competition is also sponsored by the Union Cycliste Internationale.
ESSENTIAL ACCESSORIES FOR CYCLOCROSS ATHLETES
So you've decided to get on your bike and try cyclocross? You need strong legs, stamina and perseverance, as well as suitable clothing and accessories that make the most of your efforts.
Let's start with the clothing. Cyclocross riders wear a bodysuit very similar to that used by road racers, although in cyclocross speeds are much lower. However, this particular type of bodysuit allows the athlete to move freely, as they have to get on and off the bike quickly.
Regarding footwear, MTB shoes are worn. But we recommend checking out these details: the attachment system and the foot plate.
An automatic attach/detach system is essential for getting off the bike quickly to run around obstacles, steep inclines, mud, steps etc. For the same reason, shoes should have a metal plate in the sole, not plastic as it is for road racing.
For your safety, you should always wear a helmet. Cyclocrossers usually wear a classic helmet, like those used in road cycling. This type of helmet is a good combination of lightness and protection, and can be fitted with a small peak to protect from the sun.
Other essentials for cyclocross are bike accessories, which might just change the outcome of your race. First of all, use wheels that are suitable for uneven terrain and mud, but will not make the bike heavy, as you'll be carrying it at some points of the race.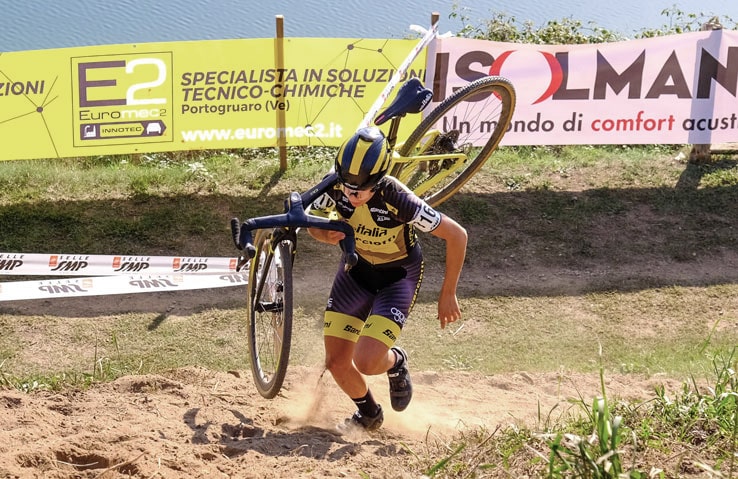 Why do a sport that's so tiring?

Apart from being fun and pushing you beyond your mental limits, cyclocross also has great physical benefits, especially in terms of cardiovascular condition and muscle strengthening.

Uneven terrain, constant changes in speed, sudden ascents and descents push you to vary the force used when pedalling and the intensity of the heartbeat in short, discontinuous bursts. Because races last no more than an hour, cyclocross is the perfect form of cross-training to improve cardiovascular performance. Like all endurance sports, it also increases the capacity to consume oxygen (Vo2MAX) through the work of the lungs.

In terms of muscle strength, the uneven terrain results in a surplus of effort, which over time becomes a surplus of strength and resistance. Pedalling is hardly ever on the level, so throughout the race the muscles of the legs, back and abdomen are working and contracted.
In the running sections carrying the bike, you'll notice that the arm and back muscles work extra hard. If you're physically prepared for this tough work, you'll be at an advantage in terms of muscle strength.

However, if you want to come out of a cyclocross race without physical injury, you should first follow a constant, gradual and specific training programme.
HOW TO TRAIN FOR CYCLOCROSS
Cyclocross training should be geared to getting you fit enough to complete the whole race beyond the lactate threshold. This is the threshold for the production of lactic acid; beyond it, the body is no longer able to metabolise this waste substance produced by the muscles. The accumulation of lactic acid causes pain and cramping, forcing you to stop and rest.
CX is a tough sport that puts great strain on the muscles. However, with good athletic training, you can move the lactate threshold and improve your performance, in terms of both muscular endurance and cardiovascular capacity. If you decide to embark on this course, you're someone who enjoys a challenge and knows how to step up your game.
If you're starting from zero, cyclocross training should consist of three gradual steps:
Basic physical, muscle and cardiovascular training for cyclocross;

Strengthening and development;

Specialisation in the types of physical activity needed during cyclocross races.
The most effective types of training are:
Resistance

training, with high gears and slow pedalling, to simulate the difficulties encountered in bumpy and muddy terrain. These can have intense peaks and intervals, or pyramid repetitions followed by cool-downs;

Cross-training

, alternating cycling with running, swimming or gym work, or simulated running while carrying the bike, as happens during the event. Aerobic sessions with intervals of rest are also very important.

Technical

training, because this type of terrain demands skill and agility on the bike.
Your weekly schedule should include about 4 training sessions, alternating with rest days. The ideal is to work with an expert personal trainer, as cyclocross involves intense physical effort.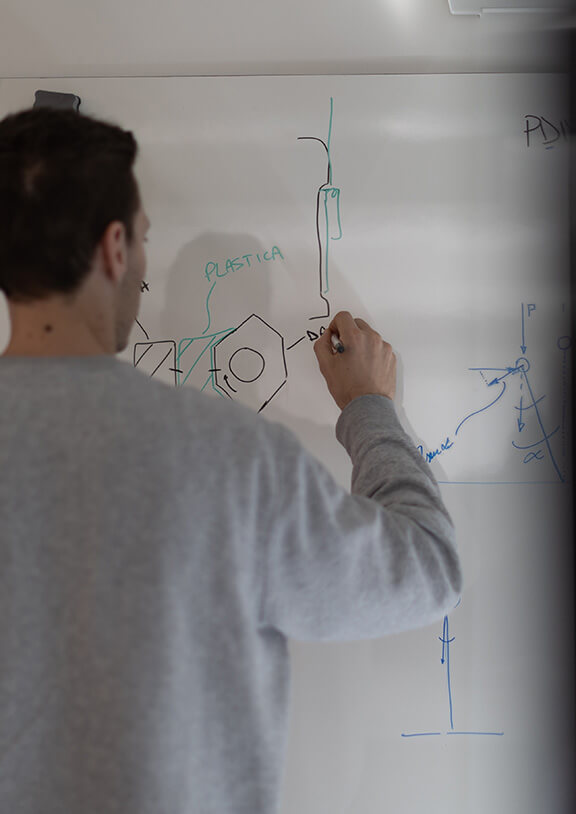 CYCLOCROSS, MTB XC OR GRAVEL? THE DIFFERENCES
If you're approaching the world of cyclocross for the first time, you may not have a clear idea of the differences between it and other disciplines such as Mountain Bike Cross Country (MTB XC) or Gravel.
MTB XC takes place on circular race tracks which may be 10 km long, often built specifically as a course with obstacles, branches, foliage, jumps and tight corners. Races tend to be longer than cyclocross races, lasting around 2 hours. Mountain bikers maintain a more or less steady speed throughout the race, and tackle highly technical single tracks in the circuit, in which they must show off their technique and responsiveness.
Meanwhile, Gravel is a new discipline which has experienced a boom in recent years. Gravel tracks are often on stony or gravelly roads, and are long or very long. For instance, it is not uncommon for gravel bikes to be used as touring bikes for travellers.
Cyclocross, MTB XC and Gravel use different bikes and different wheels. Each type is optimised for the characteristics of the discipline and the performance of the rider.
HOW A CYCLOCROSS BIKE IS BUILT
Now we come to a series of more technical information, which will be useful if you're starting out in cyclocross.
Your bike needs to optimise your performance in terms of speed, including off-road. So we're not talking about comfort, but performance: it must be good at stopping and starting, and enhance your muscle strength.
The frame is usually traditional in form. You should have enough room to place your shoulder and arm through the main triangle, to carry the bike during running sections (there is no water bottle holder for the same reason). The frame is usually made in a lightweight yet resistant material such as steel or carbon.
Never forget that your cyclocross bike has to handle muddy terrain and obstacles. So for safety there should always be a space between pedal and ground, even when the leg is extended.
The forks and fork blades are distanced to prevent mud getting stuck on the wheels and impeding movement.
The rules allow you to choose the type of gear change (mechanical or electronic) and the type of brakes (disc, cantilever, calliper or pads). The gear system must allow you to change frequently, often with short, intense pedal strokes. Because of this, many riders prefer a progressive gear system.
How to choose cyclocross wheels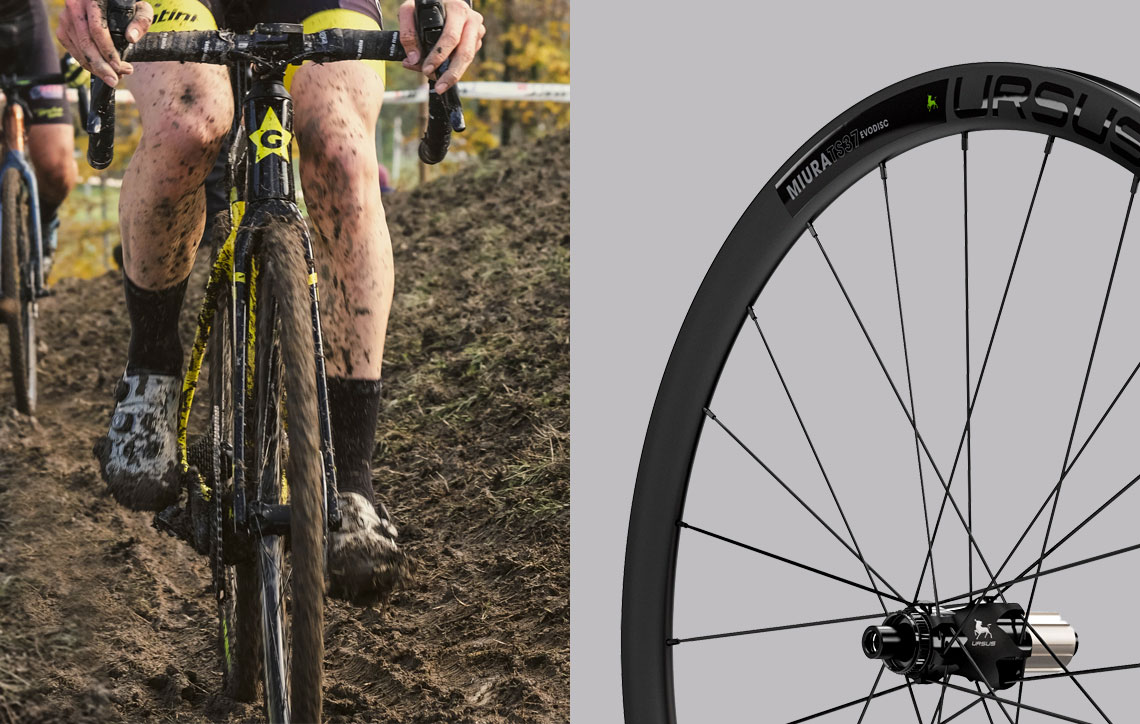 The characteristics of cyclocross wheels permitted in races are governed internationally, but there is a margin of choice.
The best thing is to learn from a high-level cyclocross rider. Professionals prefer to use 37 mm rims with low to medium depth, made of carbon and with tubed - or increasingly - tubeless tyres. They also often choose wheels that are compatible with disc brakes, which are becoming standard in professional cyclocross events.
Carbon and aluminium are the ideal materials, due to their lightness: a heavy bike makes for a slower time, especially during the running sections.
Your wheels can change the whole outcome of the race. One feature of cyclocross is that the bikes do not have suspension, despite the unevenness of the terrain and the alteration of tarmac and mud.
Many athletes prefer to use rigid wheels, sacrificing comfort for a bike that's more responsive and high performance during the race.
The choice of hubs is also important to make the most of pedal strokes without wasting energy: the goal should be maximum fluidity of wheels, for fast riding even in mud, leaves or earth.
Further reading: "Wheels for cyclocross bikes, how to choose the best?"
Cleaning cyclocross wheels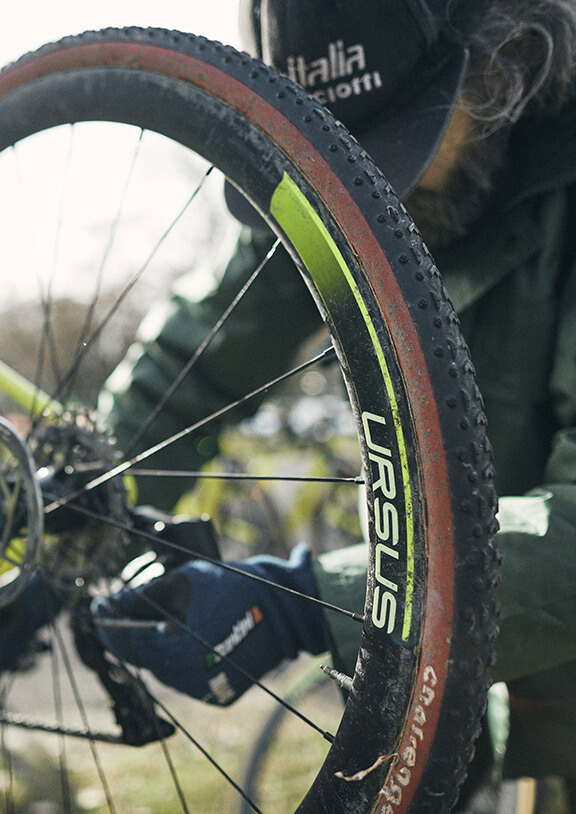 URSUS wheels for cyclocross
There are many options available on the market, but using high-quality wheels can change the outcome of your race. With the right wheels you have the chance to optimise your effort and reduce your energy use, without wasting a single watt during the race.
URSUS produces state-of-the-art wheels, designed to maximise the characteristics of your cyclocross bike throughout the race.
Every URSUS wheel is developed by our in-house R&D team and subjected to progressive stress testing, both in the lab and on the track by professional cyclocross riders.
URSUS offers a choice of three different cyclocross products: