GRAVEL BIKE TIRES: BEYOND ASPHALT
Cycling is freedom: so why should you limit yourself to asphalt roads?
Ursus Gravel wheels are here to change the way you pedal.
At last, enjoy an across-the-board riding experience.
WHAT WILL YOU FIND IN THIS PAGE?
GRAVEL: DEFINITION AND ORIGIN
Gravel. As its name implies, this is a terrain that has nothing to do with asphalt: small stones, gravelly country roads frequented at most by a few agricultural vehicles meandering by.
Gravel cycling and gravel bikes are not a mere fad, or a trend that has grown rapidly in less than ten years. Gravel is a return to the past thanks to modern technology. The roads of the heroic cycling of the early decades of the twentieth century are and forever will be gravel roads. And so were the roads of the Milan-Sanremo 1910: mud, snow, and ice. 71 riders at the start, three at the finish. The Tour de France in 1913 was already on gravel. The first yellow jersey in history was Eugène Christophe, who fell down the Tourmalet descent and was forced to repair the fork of his Peugeot alone in a blacksmith's shop. Gravel is the manifestation of the sport of cycling's ability of renewing its lifecycle to find new forms and inspirations.
It was 2006 when Jim Cummins and Joel Dyke thought of organizing a 200-mile off-road ride – the Dirty Kanza – to admire the beauty of the area of Flint Hills, Kansas, in the United States. There were 34 riders at the start. Today, that race no longer exists, or rather, its name has changed, sponsors have arrived, and professional cyclists and the enthusiasts present at the starting line have exceeded 4 thousand. But gravel is and always remains an alternative way to reunite cycling with its soul: a life experience that has a special meaning only if shared.
THE TRENDS OF THE DISCIPLINE
Gravel Bike, trend or revolution? The phenomenon sparked by gravel biking is synonymous, first of all, with a multitude of values. Freedom, carefreeness, the escape from the stress of everyday life for a few breaths of fresh air, away from the dangers of traffic. Of course, even here we have begun to talk about competitions, races, and prizes, but without forgetting that what matters is the philosophy, the way of approaching our bike. If cycling is your passion, gravel biking will allow you to feel at home anywhere, even on the routes that, until recently, were intended exclusively for cross-country MTB.
Do you want to spend an alternative weekend with friends, or maybe reach the North Cape alone? You can load everything you need on your bicycle, thanks to special accessories that let you travel in full autonomy.
This trend is called bikepacking, and it is a style that has given rise to real communities of cycle-travelers. No rankings, and high performance is banned. A beer and an aperitif with the products of the newly explored territory can be an enjoyable prelude to a night to be spent at high altitudes or in the woods, gathered around the fire before some well-deserved rest in a tent.
THE MOST BEAUTIFUL RACES AND EVENTS DEDICATED TO THE GRAVEL DISCIPLINE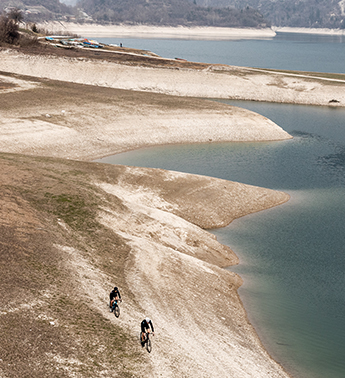 The competitions and festivals dedicated to gravel bikes are on the rise and are looking for their own identity. The words "challenge", "series", "race", and "classic" often accompany the names of the locations hosting the associated events.
Halfway between a new trend and an established phenomenon. A push – much awaited by some – towards the organization of races and cycle gatherings aimed to gravel aficionados may come from the International Cycling Union (Union Cycliste Internationale - UCI). The president openly stated that: "Gravel has been part of cycling's DNA from the very beginning." In this regard, the UCI is working on a World Series and on a World Championship dedicated to the discipline: it is no coincidence that gravel roads have had a renaissance at the Giro d'Italia and Tour de France.
Beyond the difficult institutional recognition, the movement is growing thanks to that "desire for gravel" that comes in particular from the United States. If you yearn to breathe the true essence of gravel, then you just have to sign up for the Garmin Unbound Gravel, the event that sparked worldwide interest in 2006. Always looking at the US calendar, the list can be quite long and you may be spoiled for choice: Crusher in the Tushar, SBT GRVL, Vermont Overland, Grinduro, Lost and Found…
As for Europe, Belgium was the first "importer" of the gravel format. While Schaal Sels is reserved for professionals, it is worth checking out the Dirty Boar if only for the final party, where people drink beer and eat fritjes, the famous Belgian fries. In Great Britain, there is the Grinduro and the Dirty Reiver 200. In Germany, it is worth remembering the Gravel Rallye Series – with two stages between the Black Forest and the Rhine Valley – and the Gravel Marathon Salzkammergut Trophy in Austria.
Even Italy is getting serious, with the Gravel Road Series which includes three races, one of which being the Nova Eroica. The calendar also offers numerous non-competitive events, without support and dedicated to bikepacking with the sole supply of GPS tracking. There is no time limit: feel free to get lost to admire the beauty of nature: Tuscany Trail, Veneto Gravel, the Monsterrato-Strade Bianche. Speaking of Strade Bianche, here is Giulio's story: he is a friend of Ursus who cycled along the classic Sienese route dedicated to professionals, which has become a fixed appointment of the international cycling season.
If you want to sit under the stars and share experiences with other cyclists on gravel bikes and more, you cannot miss the BAM! Campfire, the first European cycle-traveler gathering.
THE MOST BEAUTIFUL TRAILS IN ITALY
Italy is a land of cycling, attracting many enthusiasts from all over the globe: the climate, the artistic beauty, and good wine, combined with a gastronomic cultural landscape that is unique in the world. A gravel bike can be the ideal "condiment" to combine all these elements. From north to south, Italy offers the opportunity to experience a rather dense territory, where it is hard to cover a single meter without history.
An example? 90 km, five medieval towns, vineyards, and the sites of the Great War. The departure is from Cittadella in direction Castelfranco Veneto, with fast ascent towards Asolo – one of the most beautiful villages in Italy – continuing towards Bassano del Grappa and then Marostica, the city of cherries and chess, before returning to Cittadella.
If you want to continue exploring this area, the enclave of the Asiago Sette Comuni Plateau offers you the opportunity to experience a Great War setting right from your bike thanks to 500 km of dirt roads. Places that still continue to return historical artifacts. Monte Cengio, with the famous "jump of the Grenadier", Cima Ekar – where the Campagnolo gravel transmission group of the same name was born – up to monte Cogolin. Military roads, agritourism farmhouses, shelters, dairy farms, and mid-mountain pastures.
We apologize to the other Italian regions, each of which deserves a long paragraph dedicated to the topic. To remedy this, here are some of the most beautiful trails in Italy.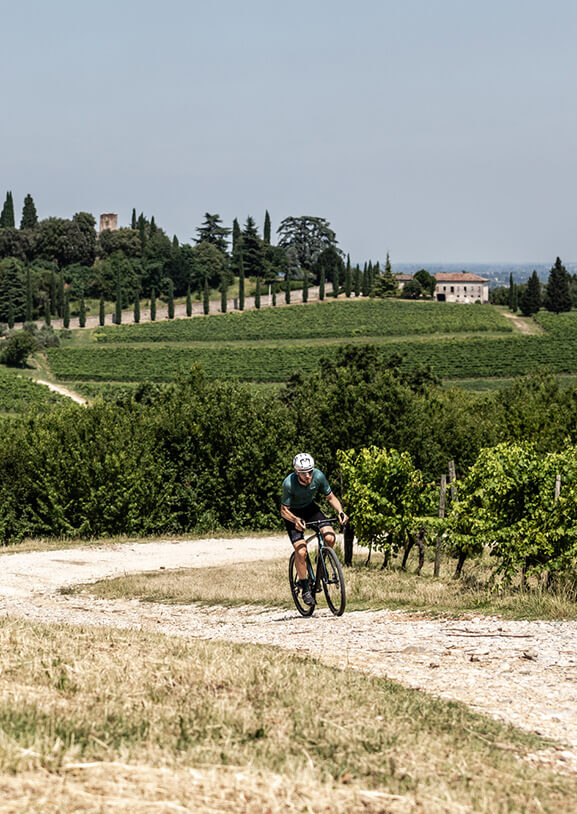 THE BEST WAY TO PLAN A RIDE
Full-on bikepacking or a two-hour ride on a Saturday morning to start the weekend in the best way possible? Regardless of our level of training and expectations, dedicating some time to studying the itinerary that we are about to tackle is a fundamental requirement. Knowing the routes, the elevation difficulties, the points of interest, and the presence or absence of services along the route becomes fundamental and helps to handle the unexpected.
Planning a ride in the best possible way means trying to predict what will happen, both above and below our wheels. Terrain, cartography, and weather are the key aspects to unblock many choices. "How should I dress, and how warm?", "Are there any fountains along the route?", "What will the conditions of the off-road terrain be?": these are just some of the questions we must answer before setting of on a gravel bike ride, especially if the territory is little known to us.
Garmin and Strava are not just platforms for monitoring our activities that allow us to answer the question, "what kind of cyclist are you?". For example, Strava lets you choose your preferences regarding the road surface, indicating at the same time the point of departure and arrival. Garmin provides a three-dimensional study of the territory, with the possibility of transferring and synchronizing all the data on the device that will be on your handlebar. A valid compromise can also be Komoot, a platform which allows you to create and view gravel routes, benefitting from the highlights listed by users.
HOW ARE GRAVEL BIKE WHEELS MADE?
This question could be answered with a simple "it depends". The truth is that gravel opens up possibilities for a very wide range of use compared to that of a normal road bike. There are gravel bikes that can even accommodate 29'' MTB wheels and, consequently, a solution could be found by asking ourselves one more question: Gravel wheels, how do I choose the best ones?
Be careful: there is no "best" wheel in an absolute sense. Of course, we can keep in mind our taste and personal experiences, but the "best" product is identified on the basis of the type of terrain and on the approach toward the practice of gravel that we want to adopt. If our goal is to run a gran fondo on the road without too many racing objectives toward ranking, then this is where a pair of medium profile carbon wheels – for example 37mm – intended for tubeless/clincher mounting can be a valid compromise. Conversely, if we want to opt for bikepacking and adventure, a slightly "softer" and more comfortable aluminum wheel is better: a 25 mm profile, with an internal diameter of 24 mm to house a tubeless/clincher tire. This setup allows the installation of tires between 26 and 46 mm. These are the main technical features that reveal how a gravel wheel is made.
DIFFERENCE BETWEEN CYCLOCROSS AND GRAVEL WHEELS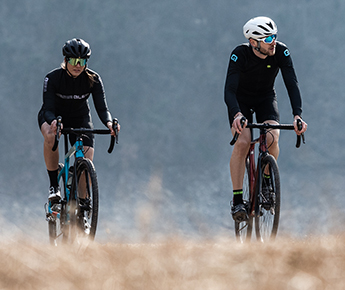 There is a fine line that distinguishes gravel wheels from those used in cyclocross. This difference is marked by Article 1.3.018 of the written guide approved by the UCI on technical equipment.
In cyclocross, the front section of the tire measured at both ends cannot exceed 33 mm. Furthermore, cyclocross is a real competition that takes place on a defined circuit with a maximum duration of one hour. Gravel doesn't necessarily have to embrace competition. This is why companies offer rims with larger internal diameters, able to accommodate tires that in some cases can even go beyond the canonical 46 mm. Furthermore, a cyclocross tire must not have any type of nail or stud.
A gravel bike, at the moment, does not have to meet the technical requirements of the UCI. This is when the cross-sections of the tires can become more important, while the characteristics of the tread can vary to the point of seeing the addition of metal studs capable of ensuring a grip that would not be achievable in cyclocross.
DIFFERENCE BETWEEN RACING AND GRAVEL WHEELS
Gravel is a true bridge that connects road bikes to the mountain bikes and vice versa. A middle ground where the differences have leveled off, with the introduction of some important technical solutions in the road sector: disc brakes and tires with larger cross-sections. Many brands offer the same product in their range with a dual intended use. This is not a mistake: a good portion of the gravel segment comes from bicycles for road use.
Still, there are differences: the inner diameter of the rim can determine the range of tires that can be used during the setup phase. A wheel with an internal diameter of 19, intended for tubeless/clincher mounting, can accommodate a tire between 23 and 40 mm. However, the 24 mm diameter that is adopted both on the road and in gravel biking can generally accommodate tires up to 46 mm.
There is another variable to take into consideration: aerodynamic drag. Numerous studies have established that it is this force that most penalizes the performance of a cyclist, more than the weight variable. On roads, it is no coincidence that the wheel profiles are higher, the spokes can be flat, and the external appearance of the rims is reminiscent of the unmistakable design of a golf ball. In addition – especially in races with mechanical assistance in tow – the use of tubulars still makes sense, while this is not convenient on gravel: replacing tubulars would be too laborious, not to mention the fact that is always better to wait 24 hours after gluing in order to use them.
ALUMINUM OR CARBON? PROS AND CONS OF DIFFERENT MATERIALS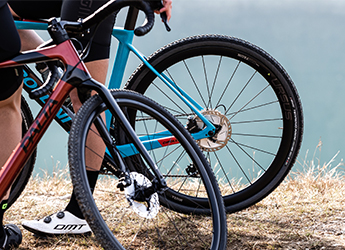 Let us preface by saying this: they are both excellent materials. Rigidity, weight, and cost can be the three main differences. A good carbon wheel responds better to torsion forces than aluminum which, on the other hand, is a "softer" material that pays something in terms of rigidity.
When the altitude difference starts to hit four digits, weight is another factor to consider. It is not 20/30 grams that determine a performance. What is certain is that, when the surplus begins to be between 200 and 500 grams, and when climbs are a common denominator on your rides, then carbon gains another point in its favor.

Pricewise, there is a clear difference in terms of economic investment: this is why aluminum is used in medium and low range fittings. In any case, an aluminum wheel will be more comfortable than a carbon one and in gravel this is a factor to be taken into serious consideration, given the repeated stress generated by irregular terrains. Overall, the altitude difference, the type of road surface, and the response you want to have from your bicycle are further factors to take into consideration for your choice.
GRAVEL BIKES: THE MOST IMPORTANT SPECIFICATIONS
Adventure or fast routes? Competing or pedaling in complete tranquility? Often, the needs determine the intended use too. The gravel range can be divided into at least two segments that identify the types of bicycles.
Backroad gravel bikes derive from road bikes, as they the use the same components. These are products that focus more on smoothness and speed, suffering on heavier dirt roads or single tracks, while the adventure type leaves aside those competitive-derived performances, making room for different standards, such as the 27.5'' wheels, which make a bike more responsive and rideable in narrow passages, as well as tires up to 50 mm.
In both cases, the option to house accessories which facilitate the transport of material (for repairs, food, etc.) becomes an essential feature. Space optimization is vital, as are the frame and fork tolerances, which determine compatibility with tires with different cross-sections. Disc brakes and thru-axles are universal standards that you just cannot do without.
THE ESSENTIAL ACCESSORIES FOR YOUR GRAVEL BIKE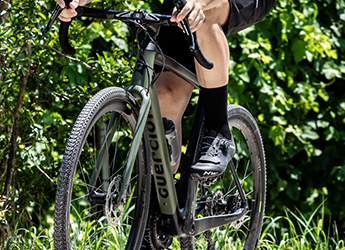 Let's start with the ABCs. The best accessories for your gravel bike can undoubtedly be as simple as a good puncture repair kit, without which it is better not to leave home!
If the wheels are fitted with a clincher tire, it is better to bring along a couple of inner tubes. If, on the other hand, the wheels are tubeless, we could also equip ourselves with a repair/inflation canister, also known as fast. A tire remover, a pump, and perhaps a tap for CO2 canisters and a multitool can complete the kit.
Double bottle. If the idea is to spend more than a couple of hours biking in inaccessible and less traveled areas, it becomes fundamental. In addition to the classic 550 ml bottles on the market, there are 700/750 ml bottles that can guarantee greater autonomy and water reserve.
A bike computer capable of communicating with one or more satellite positioning systems becomes a valid ally in order not to lose the route. Not to mention that this system, if correctly set, helps to locate the cyclist even in an emergency.
Bags. Another topic that is dear to all bikepacking enthusiasts. Frame bag, saddle bag, and handlebar bag are the three most common accessories to find on the market. In case of extreme storage needs, accessories are available on the market that can be applied on the fork and rear stays.
Headlights and rear lights become mandatory when we're cycling after sunset, just as reflective suspenders or vests are mandatory when we're traveling through tunnels.
HOW TO CLEAN YOUR GRAVEL BIKE AND WHEELS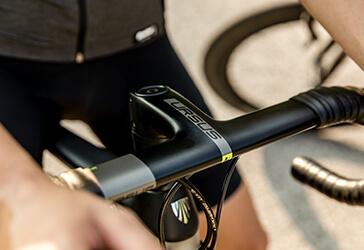 The recommendation is to always follow the instructions provided by the manufacturer to avoid unpleasant damage and corrosion processes that can compromise the functionality and safety of your bike, in addition to forfeiting warranty terms. In general, it is best to clean your bike regularly trying to remove most of the dirt at the end of each ride. This is the first principle of the manual we titled "How to clean your gravel bike".
Particular attention must be paid to cleaning the wheels, hub, sprocket set, and brake discs. Not only this ensures the smoothness of the wheels, but above all it increases safety when braking. Remember: regular cleaning extends the life of your bicycle.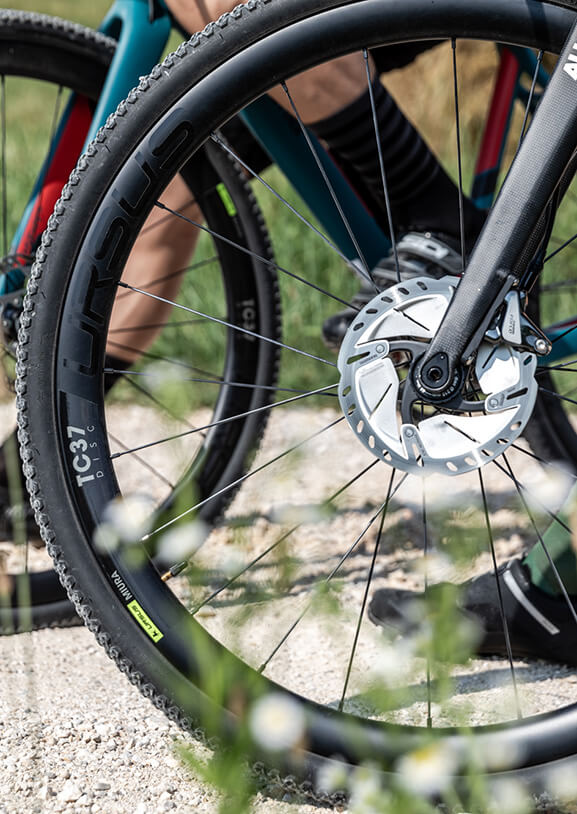 URSUS MIURA TC37: PERFORMANCE AND ELEGANCE FOR YOUR GRAVEL BIKE
Do you want a light wheel that is both effective on any terrain and is also able to give that aggressive look that enhances your bike? The Ursus Miura TC37 disc can be considered a well-rounded gravel wheel, able to perform at its best on any terrain. The rim is in unidirectional carbon fiber, meeting the aerodynamic standards of the NACA 0027 profile. Ursus technicians have designed a rim with a drop-shaped cross-section of aeronautical origin: fluid dynamic resistance and its related turbulences are reduced to a minimum, at the complete advantage of rideability, even in wind conditions with variable direction. This feature, combined with the 37 mm profile, guarantees rideability in all environmental conditions: from asphalt to dirt roads.
The Ursus Miura TC37 can be considered a multipurpose wheel with performance in its DNA: torque weight 1.520g, standard disc center lock, Sapim CX-Sprint carbon steel straight pull spokes, RD50 hubs in Ergal 7075 alloy, compatibility with Shimano, Sram XDR, Campagnolo, and high-speed SKF bearings with the option to request Ceramic Speed bearings.
The internal diameter of the 21 mm rim can house tires from 25 to 34 mm. This interval allows for a wide range of combinations to be adopted on the same wheel, according to the selected terrain conditions.
TUBULARS FOR GRAVEL BIKES? HERE ARE THE MIURA TR37S
They are the twin sisters of the TC37. Same application, same materials used in the assembly, but with one difference: the rim is made for tubulars. Tubulars on a gravel bike? It is a possible solution. The weight of the Miura TR37 is 1,440 g: this saves 80 g compared to the "TC" version for tubeless/clincher. The rim with an external width of 28 mm and an internal diameter of 21 mm can house tubulars between 25 and 34 mm. Tubular devotees can thus benefit from a high-end multipurpose product which can be used on roads, in cyclocross, and gravel at the same time with some extra care.
URSUS ORION: MAXIMUM COMFORT FOR YOUR ADVENTURES
Is gravel first of all a pleasure, a way for you to stay in contact with nature, unplug and discover a territory from a different perspective? Then the Orion wheel is the ideal choice. An aluminum rim with a 25 mm profile for tubeless/clincher, Sapim Leader black J-bend spokes, RD30 aluminum hubs, compatibility with Shimano, Sram XDR, Campagnolo, high-speed SKF bearings. The aluminum rim with an internal diameter of 19 mm can house tires from 24 to 36 mm: this synergy allows to obtain a high level of comfort. Thanks to these characteristics, Ursus Orion wheels are a perfect and reliable ally when it comes to spending days on your bike without hurrying or worrying, on any terrain.